"You know, it's true what they say about little boys... born with no natural inclination to share."


---

This article contains spoilers from the most recent DCEU film. You have been warned.
"I can't print this, Lois, you might've hallucinated half of it."


---

It is suggested that this article, or a section of this article, is in need of proper citations.
Slade Joseph Wilson[citation needed], better known as Deathstroke, is the world's deadliest assassin and mercenary-for-hire. He is one of the greatest adversaries of the Batman[1][2], and an ally of Lex Luthor.
Biography
Yacht Meeting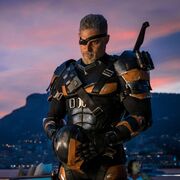 Deathstroke was invited to Lex Luthor's private yacht after the latter had broken out of Arkham Asylum. Lex talked about Superman's return and the formation of the Justice League. Slade arrived, removing his mask, and warned that Lex shouldn't have invited him if all he was going to do was waste Slade's time with conversation. However, Lex justified this by suggesting that they "even the playing field" by creating a 'League' of their own.[3]
To be added
Personality
As an assassin, Slade Wilson is cold and irascible, being more than willing to leave Lex Luthor's yacht when he thought the latter was wasting his time, but seemed far more interested after hearing his proposition.
Abilities
Peak Human Condition: Slade Wilson, as a tremendously skilled and experienced assassin, is in peak physical condition. While not fully superhuman, Deathstroke's extremely muscular and athletic physique make him immensely physically powerful by normal human standards.
Master Martial Artist: Wilson is a tremendously skilled armed and hand-to-hand combatant.

Master Swordsman: Wilson is an extremely formidable swordsman, with him actively employing a sword as part of his arsenal.
'Deathstroke' Armor: When in the field, Deathstroke always dons an orange-and-black mask and bodysuit.
Sword: Wilson actively employs the use of a sword as part of his arsenal.
Relationships
Trivia
Deathstroke, Superman, and Lex Luthor all have the same middle name, Joseph.
Gallery
Screenshots
Behind the Scenes
References
↑ Terrio, Chris, Whedon, Joss (writers) & Snyder, Zack (director) (November 17, 2017). Justice League.
Ad blocker interference detected!
Wikia is a free-to-use site that makes money from advertising. We have a modified experience for viewers using ad blockers

Wikia is not accessible if you've made further modifications. Remove the custom ad blocker rule(s) and the page will load as expected.