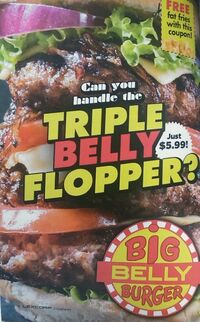 Big Belly Burger is a burger restaurant chain owned by LexCorp. It boasts many custom products specific to particular locales.[1]
Big Belly Burger began in Coast City. However, after LexCorp acquired the chain, franchises began popping up all along the eastern coast of the USA. More than 20 operated at one time in Gotham City.[1]
Known custom products
Edit
The Gotham City franchise's website is www.bigbellygotham.got.[1]
The Gotham City franchise is open 6am-11pm daily.[1]
External Links
Edit
References
Edit
↑ 1.0 1.1 1.2 1.3 1.4 1.5 Wallace, Daniel (February 16, 2016). Time Out Shortlist Gotham and Metropolis (Gotham City). United States: Time Out.
Ad blocker interference detected!
Wikia is a free-to-use site that makes money from advertising. We have a modified experience for viewers using ad blockers

Wikia is not accessible if you've made further modifications. Remove the custom ad blocker rule(s) and the page will load as expected.